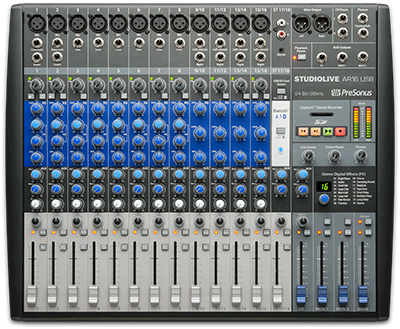 The PreSonus hybrid mixer series comprises the 18-channel StudioLive AR16 USB, 14-channel StudioLive AR12 USB and 8-channel StudioLive AR8 USB.
StudioLive AR USB mixers are equipped with a USB 2.0 audio interface that can capture all input channels, plus the main mix, to a Mac or Windows PC, at 96kHz, 24-bit resolution Audio can be recorded with PreSonus' Capture live-recording software, and edited in Studio One 3 Artist DAW recording and production software – included.
For applications requiring a computer, StudioLive AR USB mixers are equipped with an onboard stereo SD recorder that can be used to pass the main mix without a computer. The SD recorder plays up to 32GB of MP3 and .WAV files for hours of music or backing tracks without a computer.
The new mixers feature the PreSonus Super Channel, accommodating four stereo analogue and digital sources at once. A media player can be connected to the Super Channel's unbalanced RCA and mini-jack inputs to play stereo audio from the onboard SD recorder or from your USB-connected Mac or Windows PC. Bluetooth 4.1 will pair a smartphone to a StudioLive AR.
Other features include class-A mic preamps, two instrument inputs, three-band semi-parametric EQ, pan, mute and PFL solo. In addition to the main outputs, there are monitor mix outputs with dedicated buses for feeding stage wedges, a headphone amp, or an in-ear system.
Each StudioLive AR USB mixer has an internal stereo effects processor with 16 presets, including an assortment of room, hall, and plate reverbs; chorus and delay effects; and a preset that emulates an acoustically treated studio room. A dedicated effects return, with master level fader and monitor sends, allows adjustment of the amount of the effect in the main and monitor mixes.
All models are expected to be available in Q3 2016.
More: www.presonus.com