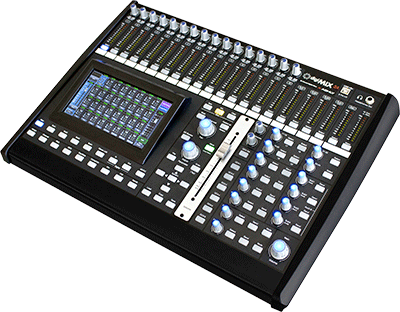 Ashly Audio has released digiMix24, a versatile, compact 24-channel digital mixing console with integrated signal processing and effects and iPad remote control for worship and educational facilities, auditoria, gymnasia, performance spaces and project studios
The digiMix24 features 24 inputs (including 16 class-A mic/line inputs); up to 14 mix buses; eight aux outputs, eight channel inserts; 33 channels of dynamics and EQ; and two stereo effects processors with reverb, delay and chorus.
The control surface incorporates a seven-inch colour LCD touchscreen, intelligent metering, and motorised faders, while system management software saves, loads and copies mixer set-ups. Optional, field-installable cards provide Dante connectivity or a USB interface for easy multitrack recording or playback.
'The digiMix24 combines the feel of a traditional analogue mixer, the intuitive control of digital systems that we've pioneered in the work with our Ashly Protea DSP units, and the conveniences and flexibility of a recallable digital mixer, with build quality, sound quality, and a price point that make it the obvious choice,' says Ashly Director of Sales, John Sexton. 'It offers two modes – a normal technical mode with all of the depth and flexibility that an audio professional would expect and an EZ-Mode for non-technical users in schools or churches. The digiMix24 pairs with a companion iPad App that allows remotel setting of stage monitor levels and mixing from around the venue.'
More: www.ashly.com