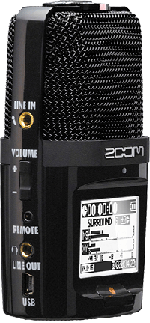 Zoom Corporation has collaborated with Google on an update to its H2n Handy Recorder, giving content creators the ability to record and output spatial audio files for VR applications using Google's Jump platform.
The Jump platform uses VR video and surround-sound audio to create an immersive watching experience. To support content for the platform, Google has developed a Jump camera rig consisting of 16 camera modules set in a circular array. When deployed as part of the Jump camera rig, the Zoom H2n recorder sits in the centre of the array, making its compact size an essential feature. The Jump Assembler (using Google's cloud) then assembles 16 pieces of video into a stereoscopic VR video ready for YouTube.
The H2n Handy Recorder now offers unique features for capturing spatial audio, a next-generation surround-sound compression format that allows content creators to extract and separate four individual audio tracks. Just like 360° videos provide an immersive visual experience, spatial audio helps viewers hear the depth, distance, and intensity of a place. Using the H2n recorder, creators can capture four surround sound audio tracks – left, right, forwards, and backwards – to go along with the stereoscopic VR video. When viewers watch the video on YouTube, they can change the direction of sound as they move through the VR environment.
The firmware allows content creators to capture a single four-channel multitrack WAV file that includes Omni, Left/Right and Forward/Backward tracks. YouTube now offers native support for the spatial audio format, and audio recorded with H2n in Spatial Audio mode will be automatically decoded for playback on the site.
The Zoom H2n Handy Recorder firmware update is now available for download.
More: https://zoom-na.com/H2n