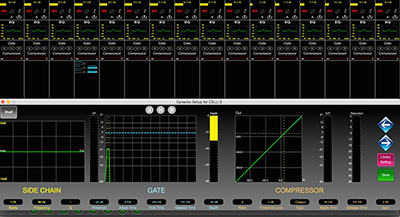 Cadac Sound has unveiled an offline editor for its CDC six and eight live mixing consoles.
CDC Offline Editor mirrors the CDC six and CDC eight consoles operating software with an identical graphical user interface, enabling full offline functionality within a Mac-based software package. With the ability to edit and save all key operating parameters, and drag-and-drop capabilities – precisely as on the CDC consoles' touchscreen – it enables the creation of, and editing and amendment of pre-existing, show files, which can be uploaded to or downloaded from the consoles via a USB key.
'Not only is an offline editor an essential preparatory tool for sound engineers, enabling them to create, amend and store their show files for a particular production or venue, it is also facilitates "first user experience", allowing engineers to experience the console interface, before even physically touching one,' says, Sales & Marketing Director, Richard Ferriday. 'We believe that experience is something which will encourage a lot of engineers to take a closer look at CDC six and CDC eight.'
The Cadac CDC Offline Editor is anticipated to launch on the Apple App Store in Q3 2016.
More: www.cadac-sound.com