The EMX2 portable powered mixer brings Yamaha technology to modest mixing applications in the form of a lightweight,10-channel analogue powered mixer that can be operated with limited audio experience.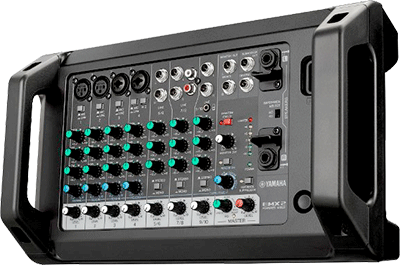 Its all-in-one design requires a single power cable and a few simple connections to loudspeakers and input sources for use. All controls and connections are on the front panel, meaning ease of access and an immediate visual reference are available at all times.
It is designed for a wide range of applications and environments, ranging from community centres, houses of worship, meeting rooms, offices and council chambers to parties, pubs, clubs and small outdoor events, its features are ideal for presentations, seminars, speeches, DJs, live music and karaoke. It is also suited to mixing announcements with background music or other pre-recorded audio, such as at community or small sporting events.
The EMX2's 375mm x 220mm x 150mm dimensions and 4.2kg weight make it portable. Provided with in-built handles, it will easily fit alongside speakers in the boot of a small car. Optional adaptors also mean it can be mounted on a microphone stand, giving a performer or speaker quick and convenient control of all features, or slotted into a 19-inch rack.
Featuring four mono mic/line inputs with three stereo line inputs, it is equipped with phantom power on Channels 1-2 and a high-impedance input on Channel 4, allowing the use of use high-performance condenser microphones and connect an electric guitar directly without any additional equipment. Inputs 9-10 feature an additional stereo 3.5mm jack, ideal for sourcing music from personal playback devices.
The EMX2 features two sets of LR outputs, one set for a loudspeaker system (with selectable 4Ω or 8Ω impedance) and the other for monitors, as well as a dedicated subwoofer output. As the EMX2 is active, passive speakers can be easily connected to complete the audio system, with the option of a Yamaha DXS Series powered subwoofer for applications that require a more prominent bass performance.
The mixer includes Yamaha reverb effects, with an single rotary control to select the type and depth of four types – Hall, Plate, Room and Echo. It also includes Yamaha's digital feedback suppressor technology – activated by a single push switch – to instantly eliminate feedback.
The 1-Knob Master EQ enables a user to apply optimised EQ settings with the turn of a rotary control. The Speech setting is geared towards meetings, seminars or conferences with a limited lower end for clear, defined speech; the Music setting offers a more balanced sound tailored to acoustic or band performances and the Bass Boost setting is ideal for DJ performances or audio playback that puts a priority on emphasising bass frequencies.