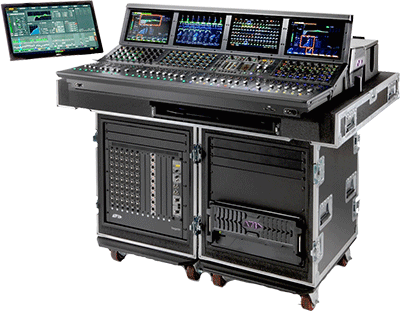 Avid Venue 5.1 software update is now available for all Venue S6L live mixing systems. The new software update claims 'significantly enhanced capabilities' for the console, inline with the requirements of large-scale live sound productions.
Venue S6L is a fully modular, scalable live sound mixing system that for a wide range of live sound mixing applications, including front-of-house, monitor, broadcast and theatre. Featuring the Venue E6L engine, Venue S6L will accommodate large channel and plug-in counts at the lowest possible latency with all processing at 96kHz. Venue S6L is a networked system and can be customised to meet the needs and budget of any professional production. Powered by Avid Everywhere, Venue S6L functions as the front-end to the Avid MediaCentral Platform.
Key features:
· Support for two AVB-192 Ethernet AVB Network Cards, which enables users to expand Venue S6L systems to support up to 192 remote mic-pres and 96 outputs using three fully loaded Stage 64 I/O Racks to take on the biggest live sound productions.
· Spill Mode, which allows engineers to quickly spill any Aux, Group or VCA members onto the surface faders for immediate access to these channels.
· Enhanced visual feedback of parameters and states on the high-resolution OLED displays for faster navigation and mixing.
· Improved Venue show file compatibility with other Venue systems.
Customers with active support plans receive Venue 5.1 software update at no charge, via their Avid Account.
More:
www.avid.com