The Sound Devices CL-12 linear fader controller can be connected to any field production mixer in the Sound Devices 6-Series product line, expanding each portable mixer's capabilities with up to 12 100mm linear faders, LED metering, and quick-access buttons to key functionality for live mixing of multiple audio signals.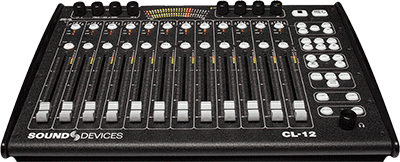 'Today's audio professionals face greater expectations for more mics, feeds, and audio channels, amidst tighter time constraints and fast-paced schedules,' says Sound Devices CEO, Matt Anderson. 'Add the CL-12 to the 688, and the portable mixer instantly becomes a fully cohesive cart-based audio recording system with expanded mixing capabilities. The 688 system's ability to rapidly transform from bag to cart, and back again, makes it the perfect investment for audio professionals, especially those who need high-quality tools that can adapt to a challenging, ever-changing industry.'
Connecting the CL-12 with the 688, 664 or 633 recorders via USB and transforms them from a mixer/recorder in a bag to a mixing console and recording system for cart-based applications. With the CL-12, the 688 gains three-band parametric EQ for all 12 inputs, as well as MixAssist activity LEDs, and instant access to SuperSlot wireless receiver data when the SL-6 is attached.
For all 6-Series mixers, transport controls as well as track arming, naming, and routing are a button press away on the CL-12. Additionally, three user-programmable buttons offer customisation, and USB ports for attaching a keyboard and lamp make metadata entry straightforward.
The CL-12 comes in two models: the standard CL-12 and the CL-12 Alaia (ah-lie-ah), which features smooth-gliding Penny & Giles faders and custom Amish-made hardwood side panels in either Blonde Maple or Red Mahogany.
More: www.sounddevices.com