Mackie has announced the ProDX Series line of ultra-compact digital mixers with wireless control.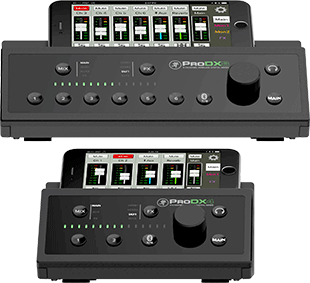 The line features two models, the four-channel ProDX4 and eight-channel ProDX8, which offer wireless streaming and control, onboard effects processing and a control app for iOS and Android.
Aimed at solo performers, small bands, venues and commercial applications that require lower channel counts, both models are equipped with Mackie's Wide-Z mic preamps. Combo inputs allow connection of mic, line and instruments and require no gain adjustment. Using the companion MixerConnect control app, users unlock processing and total wireless control plus the ability to wirelessly play back music or backing tracks from any Bluetooth device.
ProDX mixers have built-in hardware that allows control over any channel and output via a single knob, making operation easy for applications such as restaurants, commercial, rehearsal studios that have many users that only need quick level adjustment with virtually no learning curve and often in dimly lit or tight spaces. In addition to the front panel hardware, they provide wireless control over everything from EQ and FX, to voicing and mix presets using the MixerConnect app. This allows the mixer to be stored safely and out of sight without losing any control. Performers can attach their phone to their mic stand for fast changes to their mix without interrupting the performance to run to the mixer. Both models feature an integrated control bridge, offering a convenient place to set a phone or tablet at the right angle to keep an eye on the mix.
Three-band EQ with sweepable mid, low cut and compression are provided for each channel. The built-in ReadyFX effects engine offers 16 effects, including delay and reverb. A graphic EQ on all outputs allows fine-tuning of the overall mix. Users can save a mix for recall at the next show for quick set-up.
In addition to the hardware controls, processing and wireless control, the ProDX4 features two Wide-Z preamps, plus TRS main outs and an aux send for sending audio to a monitor or separate zone, while the ProDX8 extends the input count to six mic preamps and the addition of a second aux send. Both mixers also come with a 3.5mm stereo aux input for connecting a media player and a headphone output for monitoring or silent practice.
'With ProDX, we've delivered a powerful digital mixer with loads of processing, wireless control and Bluetooth streaming,' says Mackie Senior Product Manager, Ben Olswang. 'But we've also created a mixer that incredibly convenient and easy to use from the intuitive from panel interface. It's the perfect combination.'
The Mackie ProDX4 and ProDX will ship worldwide Q2 2016. ProDX4 has an MSRP of US$259.99 and the ProDX8 will has an MSRP of US$389.99.
More: www.mackie.com