Harbinger has announced the L2404FX-USB compact analogue mixer for live sound and recording, claiming 'professional features not often found in its price class'.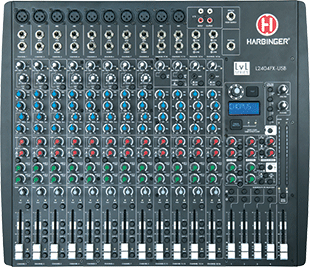 The 24-channel L2404FX-USB offers flexible routing, built-in effects and USB recording, with inputs accept signals from virtually any analogue source. The mono channels feature XLR microphone inputs, balanced quarter-inch line inputs, and insert points. Stereo Channels 9/10 & 11/12 include balanced XLR mic and quarter-inch line inputs, while Channels 13/14 & 15/16 offer quarter-inch line inputs and unbalanced RCA inputs for connection to a media player or external recording device. The LR outputs are on XLRs, accompanied by eight quarter-inch direct outputs.
Each channel includes input-gain trim, a dedicated 60mm fader, pan/balance, mute, and solo, with globally switchable AFL/PFL solo. Signal processing includes a single-knob compressor with LED indicator, a high-pass filter (set at 75Hz), and three-band EQ with sweepable midrange on every mono channel. Each stereo channel is equipped with a four-band, fixed-frequency EQ with variable level, and two of the stereo channels include a high-pass filter. There is also a 24-bit stereo digital effects processor on the main LR mix, with Parameter Edit, Tap Tempo, and optional footswitch control.
The L2404FX-USB provides four subgroup buses with dedicated faders, two post-fader aux buses, two aux buses that are switchable pre/post fader, and four aux returns. A USB port enables recording of the LR mix to a computer, with a pair of 15-segment LED ladders for the main LR mix and Clip and Mute LEDs on each channel.
The Harbinger L2404FX-USB is available now in stores and online, with a street price of $399.99.