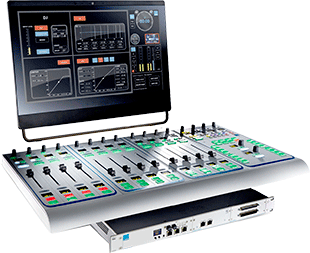 Lawo's sapphire compact radio console promises to streamline operation for fast-paced live radio shows, accompanied the JadeVSC virtual soundcard and v5.0 upgrade to the company's VisTool control panel building software.
Along with Autogain, Automix and motorised faders, sapphire compact sports a unique layering feature that allows the console to handle a live broadcast while performing additional tasks, such as voice tracking, phone call editing, and even light production. The control surface design is available in desktop or flushmounting while. a compact 1U-high engine powers the control surface and delivers sophisticated signal processing functions, along with a full complement of audio inputs and outputs – both analogue and digital. Optional features include Ravenna/AES67 IP-Audio networking and HD-SDI de-embedding.
With its v5.0 update, broadcasters can now use VisTool for creation of custom status displays, tablet and touchscreen-based panels, and even mixing console controllers. It also brings new GUI elements, including the ability to place web page objects on custom panels. And while VisTool has always been fully integrated with Lawo radio consoles, this update expands integration with further devices via the Ember+ control protocol, while a new logic engine enables rules-based decisions and actions.
JadeVSC supports 64 channels bi-directional Ravenna and true AES67 streaming in the Microsoft Windows environment, and provides multiple WDM drivers and an ASIO driver that can be simultaneously loaded by more than one application. It also features advanced real-time sample-rate conversion. JadeVSC gives broadcast software developers the ability to make their products comply with the AES67 networking standard quickly and easily. With the coming release Jade 2.4, all versions of the Jade Engine will support 64 channels of bidirectional Ravenna/AES67 streaming, the ability to run the software as a background service and a graphical refresh. Jade Studio is now fully remotely controllable over Ember+, and can be run as a Windows Background Service
More: www.lawo.com