Cymatic Audio has released the uTrack-X32 expansion card, the first 32-channel recorder/player for its X32 and M32 family of consoles.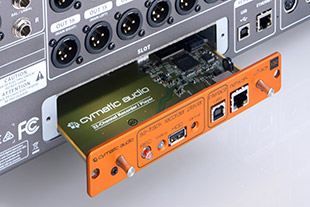 Engineered in Switzerland and manufactured in Germany, the uTrack-X32 fits into the X32 or M32 expansion card slot, operating completely independently without interfering with the console's mixing operations. It can digitally record 32 audio channels direct from the console, without the need for additional hardware or computers.
The uTrack-X32 can be used for virtual soundchecks, and can be controlled from an IOS or Android device, as well as from Cymatic's M32 or X32 consoles, without compromising the console's ability to act as a 32x32 USB interface.
Key features:
· Allows for 32 channel recording directly from the console.
· Simple 'Push-and-Go' user interface to record.
· 32-channel player, remotely controlled with uRemote (Android, iPhone/iPad, Windows, OS-X).
· 32-input, 32-output USB computer audio interface for Windows, OS-X and iOS.
· 32-channel recorder/player.
· 32 tracks of simultaneous recording/playback (up to 48kHz/24bits).
· Records to user-supplied, off-the-shelf USB hard drive (FAT-32 format).
· Pre-Record mode.
· Create new takes while continuing recording.
· Recording time determined by USB drive size.
· Free uTool software application for Windows and Mac.
The uTrack-X32 is available from Q3 2015 at a MSRP €799
More: www.cymaticaudio.com