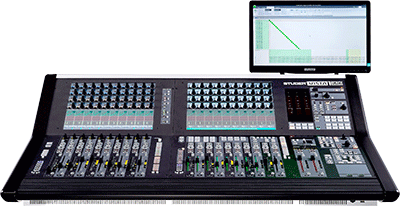 Offering an expanded feature set, Studer has released the Vista 1 Black Edition mixing console.
Using the same Vistonics user interface with 40 on-screen rotary knobs, the Vista 1's look and feel are identical to its larger sister models, the Vista X and Vista V. Features such as true broadcast monitoring, talkback, red light control, GPIO, N-x (mix minus) buses, snapshot automation and DAW control make the Vista 1 well suited to broadcast, live and production use. For theatre work, the Vista 1 comes with the complete toolset for sound designers. The enhanced theatre cue list includes Character/Actor Library event handling, with mute and VCA events handling. CUEs can fire Midi/MMC events as well as loading different Strip Setups and UAD Plug-In snapshots.
With software v5.3, the Vista 1 Black Edition user will also get the most powerful SpillZone and FollowSolo functionality, as well as a server-based event logger application, which is logging Vista system and user-events.
With an integral DSP engine of 96 channels, the Vista 1 can handle mono, stereo and 5.1 inputs, and is provided with a standard configuration of 32 mic/line inputs, 16 line outputs and four pairs of AES inputs and outputs on rear panel connections which also can be customised. I/O can be expanded using the standard Studer D21m card slot on the rear, to allow Madi, AES, AoIP (including AES67), Adat, TDIF, CobraNet, Dolby E/Digital, SDI connections etc. Madi links can connect to any of the Studer Stagebox range for XLR connectivity as well as other formats. The Vista 1 also features an integral jingle player, played from audio files on a USB jingle stick (such as station ID or background FX), and triggered by a series of eight dedicated keys in the master section.
The Studer Vista 1 Black Edition also features a redundant PSU for peace of mind, and ReLink integration with other Studer Vista and OnAir consoles means the Vista 1 can share signals across an entire console network.
Key Features:
32 or 22 motorised faders with FaderGlow.
Up to 256 I/O.
Standard configuration: 32 mic/line In, 32 line out, 8 AES I/O.
Desk operator headphone.
Integral 64x64 optical Madi port.
Slots for D21m I/O cards (AoIP, Dual-Madi, AES/EBU, Adat, TDIF, CobraNet, Aviom A-Net, Dolby E/Digital, SDI).
96 DSP channels, including 5.1 surround.
Integrated Lexicon FX.
Soundcraft Realtime Rack Plug-in engine.
Broadcast monitoring, talkback, red light control and 8 GPIO.
Input level and gain reduction LED bargraph meter in every fader strip.
Optional TFT-Meter Bridge.
Six high-resolution VFD master level meters.
Full mix-minus (n–x) system for live two way operations.
Vista data format compatibility for transfer of console snapshots.
Integrated jingle player.
USB jingle player socket.
Virtual Vista Online/offline editor.
Snapshot automation.
Theatre cue list automation
Support for Studer Vista Compact Remote Bay over Ethernet or WLAN.
Harman HiQnet support.
Ember and Pro-Bel protocol support for use with broadcast/newsroom automation systems.
Redundant PSU.
ReLink input/output sharing with other Vista and OnAir consoles.
Support for full Studer stagebox range via a Madi link.
The system can be extended by using Studer D21m I/O frames accepting cards from the D21m I/O system programme.
More: www.studer.ch