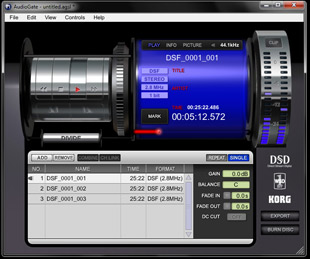 Previously only available bundled with Korg's MR series of DSD recorders, Korg's AudioGate conversion, editing and authoring software is now available free.
AudioGate enables the real-time playback of DSD/SACD files on any computer system, with any audio hardware. Powerful dithering algorithms are provided, along with editing tools such as divide, merge, normalise, fade-in/fade-out and DC cut. Users can convert from 5.6MHz or 2.8MHz 1-bit audio files to any other format, including 16- or 24-bit PCM (up to 192kHz sample rates), Apple Lossless or AAC, FLAC, Broadcast WAV (up to 32-bit floating supported) and MP3 formats.
It can be used to burn audio CDs, and the newer DSD Disc format (2.8MHz sample rate), which can be played back on a growing number of devices, such as Sony Playstations and Vaio computers.
By making this software free, Korg is underlining the fact that the requirement for 'compressed' audio formats is reducing in response to greater availbility of transmission bandwidth and data storage.
Korg's AudioGate software is included with all MR Series recorders. Non-MR recorder owners can activate the software by entering an active Twitter account.