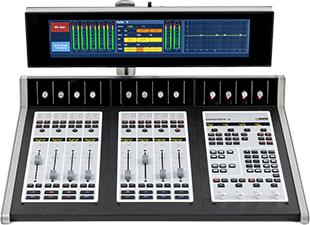 Klotz Communications has announced the Integra digital mixing console, featuring a programmable touchscreen for augmented control in stand-alone radio studios and in networked radio facilities.
The fully modular console offers a central platform integrating radio production control operations within a single control surface. Integra consoles include audio processing, visual content control, internet application and remote control of third-party equipment.
The console incorporates remote control for studio equipment, such as play-out systems and telephone hybrids. It can also be used to interact directly with listeners and to control programme associated data, pictures and video. Integra consoles are equipped with a PC, which runs Windows OS and can be connected to any Ethernet LAN. Audio-over-IP, high-speed fibre-optic interfaces and all important audio formats are sup[ported, as well as the desk's own high-quality microphone preamplifiers EQ, dynamics and digital signal processing.
Integra consoles are fully modular, and available with from four to 32 faders.