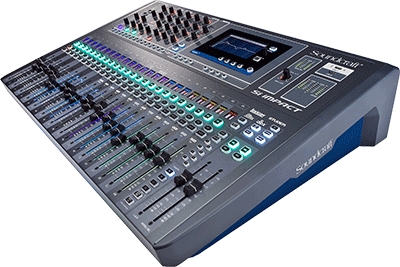 Promising a heady mix of power and processing in an affordable package, Soundcraft has released the Si Impact digital mixing console – designed to be 'as simple as an analogue mixer, but with radical workflow enhancements and DSP power that make it a perfect tool for the stage and the recording studio'.
The 40-input Si Impact offers live sound digital mixing with ViSi iPad control and built-in Stagebox connectivity for I/O expansion. In addition, the desk has a 32-input/32-output USB recording and playback interface for multitrack recording and playback directly from a DAW.
The fully motorised faders are matched with Soundcraft FaderGlow illumination technology and LCD channel displays (scribble strips) for visual feedback and easy operation. The desk offers 32 mic/line inputs, 40 DSP input channels (32 mono inputs and four stereo channels/returns) and 31 output buses (all with full DSP processing and GEQ) with 20 subgroiup aux buses and four mono/stereo matrix buses. Eight XLR/quarter-inch combi-jacks are available for line inputs and instruments, while a four-band fully parametric EQ is available for each channel and bus. Onboard dynamics are from Soundcraft's sister companies BSS, Lexicon and dbx.
The Si Impact supports up to eight VCA masters and eight Mute groups, plus 26 motorised input faders and LR/mono (fully motorised with four fully customisable fader layers). The console also features a 5-inch colour touchscreen display for easy access to show setup, patching, FX, and security.
'The Si Impact is the first of its kind in that it truly combines analog workflow with digital flexibility at a lower price than ever before,' says Soundcraft Product Manager, Sean Karpowicz. 'Most importantly, the Si Impact features the absolute best sound quality of any product in its category, on par with consoles many times larger and costlier. And thanks to the USB interface, it's equally at home in the studio or on the road.'
The Si Impact ships with a free download of Ableton Live 9 Lite.
More:
www.soundcraft.com