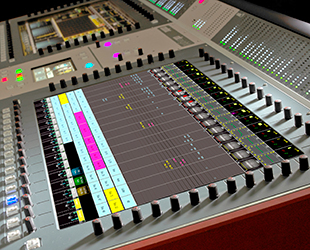 Cadac has released v2.4 software for its flagship CDC eight sound production console. The update brings the major operational features and innovations of the new CDC six to its larger sibling, including Cadac's Monitor Mode and full operational support for the integrated Waves interface, standard on both consoles.
When enabled, Monitor Mode gives the engineer the ability to access any of the 48 user-assignable buses and their respective contribution channels in 'sends on fader' mode with a single touch of the screen, making mixing a large number of monitor feeds quick and easy. The low latency of the CDC eight – sub 0.4ms from analogue inputs on stage, through the console, to analogue outputs on stage – means it is suited to in-ear monitoring operation in Monitor Mode.
Additional to this is the Mix Focus feature; when any mix is 'flipped' into sends on faders mode, the console will only present the channels that are contributing to the selected mix, negating the need to navigate through all of the inputs. It is also possible to select an input channel and 'flip' the outputs onto the faders, allowing a single channel to be sent to multiple destinations simultaneously via the faders.
With the integration of 64 channel I/O Waves interface and full support of Waves SoundGrid server within the consoles operating system, including display and control of the Waves GUI on the CDC eight touchscreen, up to 64 channels of Waves plug-ins can simultaneously run alongside the CDC eight's native effects options. Connectivity to the Waves MultiRack SoundGrid via Cat5e cable. In addition, connection via the Waves card to a laptop computer with the Waves SoundGrid Studio application installed, will provide connectivity with virtually any DAW software. This permits the use of third-party plug-ins, multitrack recording, playback and virtual soundcheck. The Waves processing is patched in the same way as any Cadac IO rack, and can be used as a send and return for effects processing, or alternatively it can be patched and used as inserts, giving great flexibility.
Each of the CDC eight's input channels features two inputs. These can easily be configured as mic/playback and switching between them globally achieved at the touch of the screen.

See also:
Cadac CDC six
More: www.cadac-sound.com