PreSonus has announced the StudioLive CS18AI mix controller, a scalable, modular control surface for StudioLive RM-series rackmount mixers and Studio One DAW.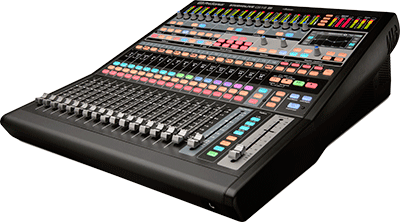 Networking with StudioLive RM32AI and RM16AI mixers via AVB Ethernet and PreSonus UCNet technology, the StudioLive CS18AI offers touch-sensitive motorised faders and enables hardware control of all mixer features, managing up to 64 channels. The new controller also improves soundchecking, live recording and studio mixdown using PreSonus' Studio One DAW and Capture recording software.
The 19-inch, rackmountable StudioLive CS18AI has the same footprint as a StudioLive 16.4.2AI console, and can control up to 64 input channels (with two cascaded StudioLive RM-series mixers) and the mixer's Fat Channel processing section. An RGB Channel Select button makes it easy to identify and switch between channels. In addition to supporting traditional layer workflows, the new controller supports PreSonus Filter DCA Groups, allowing engineers to navigate and control large mixes with 18 touch-sensitive, motorised faders. It also features a 16-channel scribble-strip and a 4.3-inch colour touchscreen.
Because the StudioLive CS18AI's motorised faders are touch-sensitive, it doesn't have to be moved in order to recognise that it's being touched, and the fader value can be viewed without being changed. When used with Studio One, this enables automation to be written using touch-and-latch methods that 'know' when a fader has been touched and released.
The StudioLive CS18AI can be used concurrently with PreSonus UC Surface control software for Mac, Windows and iPad, and QMix-AI personal monitor control software for iPhone/iPod touch, so multiple devices and be used to control a StudioLive RM mixer simultaneously. UC Surface integrates directly with the CS18AI as an extension of the controller, providing complementary views of the selected channel strip, metering and scene recalls.
In addition to handling control data, the StudioLive CS18AI's AVB Ethernet connection makes it possible to include two mic inputs with recallable XMax preamps and two balanced TRS line inputs, enabling the CS18AI to handle talkback, room mic, and other local inputs, such as two-track playback. There are also two channels of digital returns from the RM mixer that can carry signals from the solo bus, main mix, or any aux mixes to feed the two balanced TRS monitor and headphone outputs.
'Our StudioLive Active Integration mixing systems are the only solutions that allow you to customise your mixing experience to fit your individual needs,' says PreSonus Senior Product Manager, Ray Tantzen. 'With a StudioLive RM as the mix core, you can choose to work with physical motorised faders, portable wireless iPad, a large Windows 8 touchscreen, or a combination of them all.'
More: www.presonus.com