Allen & Heath has extended its Qu range with the Qu-Pac, an ultra-compact digital mixer with both a built-in touchscreen and app iPad control.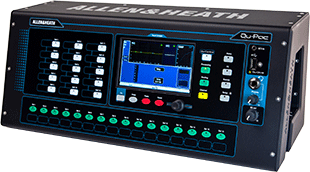 Designed for live music and installed sound, Qu-Pac is a freestanding or rackmount mixer, with 16 mono inputs, three stereo inputs and 12 mix outputs on the rear panel. It can be expanded to 38-input/28-output by connecting to Allen & Heath's family of remote AudioRacks over Cat5.
The mixer offers total recall of settings and preamps, multitrack recording to USB via Qu-Drive, a choice of personal monitoring solutions, channel ducking, multichannel USB streaming and the iLive FX Library.
The Qu-Pad iPad app gives wireless control of the mixer's key parameters and settings. Without relying on tablet control, Qu-Pac's high-resolution touchscreen gives access to all functions, providing a simple interface for day-to-day operation and a backup in the event of Wi-Fi connection problems. A fully customisable Qu-Control screen can be set up with 'widgets' for channel levels, mutes and assignment switches, arranged to suit application and operator. Fifteen softkeys allow further customisation, while different levels of user access can be set up and password protected.
As well as stereo recording or playback from a USB key, a built-in, 18-channel Qu-Drive can record and playback multitrack and stereo audio .wav files to a USB key or drive. This gives the convenience of computer-free recording in live and field applications. Qu-Pac's 32x32, Windows and Mac compliant USB streaming interface also accommodates tracking, monitoring and overdubbing in the studio. For installs and live music, Allen & Heath's dSnake low-latency audio connection enables the mixer to connect over a single Cat5 digital snake to AB168, AR84 and AR2412 remote audio racks. In addition, Qu-Pac offers two solutions for personal monitoring – via the Qu-You iPhone app or using ME-1 personal mixers, which connect to the mixer via the dSnake port.
The mixer's mic/line inputs feature crystal clear AnaLogiq recallable pad-less preamps, optimised for transparency and low harmonic distortion. Qu-Pac is equipped with a selection of FX emulations developed for the iLive pro touring series.
'Qu-Pac is a response to some of the major headaches in real world mixing,' says Allen & Heath MD, Glenn Rogers. 'For bands working the bar and club scene, there are countless situations where there just is no space for a regular mixer. For venues, there are many, many scenarios from A/V presentations and conferences to hotels, bars and restaurants where background music and simple events are handled by non-technical staff who would be intimidated by a regular mixer.'
Qu-Pac is available from March 2015.
More: www.allen-heath.com