Based on a new operating platform, Roland has announced the M-5000 live sound digital mixing console, claiming to offer 'more adaptability to individual workflow than any previous option'.

The new platform, OHRCA, represents three key concepts that Roland terms Open, High Resolution and Configurable Architecture. The console supports 128 freely definable audio paths that operate at 96kHz, 24-bits, an extremely flexible user interface, expandable protocols and multiple-format I/O choices. The key to the M-5000's internal architecture is that it is not confined to a single configuration, but can be freely defined within a range of up to 128 input or output channels or buses, allowing a console to be 'built' to suit the application. Each path can be used as a mixing channel, aux, matrix, subgroup bus or mix-minus bus in any input/output configuration. One example application might be for the monitor position, where a high number of auxiliary buses are needed. But the M-5000 is equally at home at the FOH position for live music in touring, theatre, broadcast and more.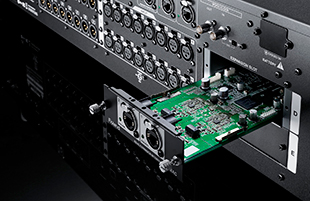 In addition to two REAC (Roland Ethernet Audio Communication) ports, the M-5000 has two expansion card slots to support a range of system configurations and audio transport protocols such as Dante, Madi, Waves SoundGrid and other future formats. The rear panel includes 16x16 analogue I/O ports; 4x4 AES/EBU ports; a 16x16 USB audio interface; connection for control via an iPad, connected or wireless; and control ports including footswitches, GP I/O, RS232C and Midi – enabling the console to see up to 300 inputs and 296 outputs, all at 96kHz. Inputs can also be patched to outputs independently of mixing channel resources.
Workflow is user assignable, using a 12-inch colour touchscreen, 28 channel faders in four groups, multifunction knobs and buttons, 'selected knob' functions and a user-assignable section. Displays are bright, colour-coded and highly visible in any light. The built-in GUI is expandable via Mac and Windows remote control software to any portable device.
Roland's existing products integrate into the new platform – including digital snake options for I/O, and the Roland M-48 Personal Mixer. Connecting M-48 and M-5000 via the powered REAC port on the console, engineers can mix between those artists on aux buses and those musicians on personal mixers. The R-1000 48-channel player/recorder completes the family of devices that is fully conversant with the M-5000/ORCHA platform.

See also:
Roland adopts Dante with M-5000 console release
Roland M-5000 adds SoundGrid support