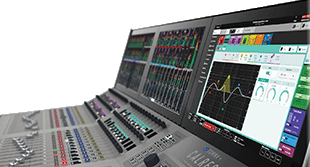 Calrec has introduced a new variant of its Summa console as an alternative for broadcasters who do not require the larger channel count of the original Summa console.
The new format supports 128 or 180 channels operated via a straightforward and intuitive GUI, making it suitable for a broad range of operator levels. Summa 128 has been designed for live broadcast applications with a focus on ease of operation. Control is via a 17-inch multitouch screen made familiar by tablet-technology and using established 'finger gestures'. On Summa 128 even complex workflow tasks such as creating mix-minus feeds are simplified.
The console uses Calrec's Bluefin2 technology at its core, and the same integral Hydra2 router technology as all Bluefin2 consoles.

Calrec has also launched a Dante interface, which works in conjunction with Hydra2 across the entire range of Calrec Bluefin2 consoles. The development gives Dante connectivity to every client on a Hydra2 network via a simple, single-width 3U-high I/O card that provides 64 audio input channels and 64 audio output channels. Connectivity is via dual-redundant RJ45 Ethernet connectors on the card's front panel.
See also:
Calrec Summa
More:
www.calrec.com