Solid State Logic is has extended its Live console range with the addition of the Live.L300 console and a v2.5 software release. The compact L300 joins the larger L500 in the company's Live console range.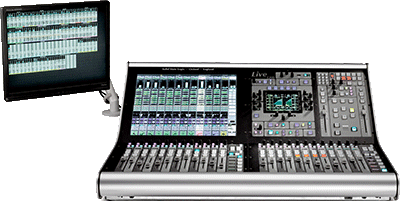 Both consoles are aimed at touring, installation, house of worship and theatre applications, and can share the same Remote I/O. The L300 is physically smaller than the L500 but is able to handle large-scale productions with up to 568 input/outputs, 128 processing paths (96 full, 32 dry), a 32 x 36 matrix, 36 VCAs and 48 FX slots.
L300 ships with v2.5 software, which brings advanced Effects optimisation and 27 new features and updates to the Live platform.
Follow Mode
Follow Mode allows the Select, Solo and unique Query function buttons on the Live console Fader Tiles to be linked together in any configuration. Each of the three Tile buttons can be programmed to 'follow' any of the other buttons on a per-channel basis. Allowing input channel, Auxiliary and Stem Group mix bus operation of the buttons to be linked in different user defined ways. A simple user interface offers fast and customisable set-up.
Effects Rack Tempo Link
The Tempo Link feature adds the ability to link and control the Tap Tempo of any Delay effects loaded into the L500 and L300's Effects Racks. Allowing up to six independent Tap Tempo functions to be controlled via both the hardware User Buttons and consoles multi-gesture touchscreens. If multiple Delay effects need to be controlled by the same Tap Tempo, those effects are loaded into the same rack and their Tempo Link functions linked.
User Buttons for Tap and Menu select
The Master Tile User Buttons have now been activated and offer access to the six Tap Tempo functions that are part of the new Effects Rack Tempo Link feature and also direct access to four of the most used menus. The User Buttons now offer direct hardware access to these key functions and can be switched simply between Mute Groups and User Buttons with a single button press. Both sets of functions are also available via the new Home Menu.
Home Menu
A number of new menus have been added to the Channel Control Tiles Home button, which includes its own multi-gesture touchscreen. These include access to the Mute Groups and User buttons from the Tiles and also an Automation View, which gives access to and visibility of the console's scene list, scene notes and many other automation functions.
Mix Bus Copy
Mix Bus Copy allows the contributions of entire mix buses to be copied across the Live console's bus structure. Copying between Mono, Stereo and LCR configured mix buses is included, and it is also possible to copy across all mix bus types. Allowing Auxiliary bus contributions to be copied to Stem Groups and vice versa.
L300 and v2.5 will be available from November 2014. An L300 compatible version of SSL's OffLine Setup Application will also be released alongside v2.5.
More: www.solidstatelogic.com