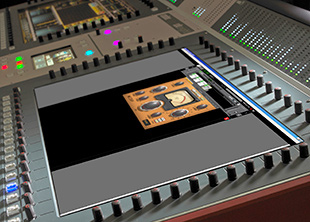 Cadac has announced v2.3 software for its CDC eight digital mixing console, adding support for a Waves interface card and connectivity to the Waves MultiRack server and control via the console touchscreens.
Access to Waves allows up to 64 channels of studio-grade processing tools to simultaneously run alongside CDC eight's own native effects options. The Waves GUI is displayed for viewing and editing on the CDC eight touchscreen. There is also support for the new TabMix iPad remote control App.
Fader Flip Modes enables all buses flip to faders, while Channel Move provides for on-screen insertion or replacement of individual or several channels by dragging-and-droping to the desired location. The Global A/B button switches every input channel between A & B inputs and now allows one touch for virtual soundcheck. With VCA Unfolding, selection of a VCA deploys all contributions of that VCA on to the faders and gives instant control. Enhanced Midi control features are also included in v2.3.
More: www.cadac-sound.com