Lawo has announced the mc²36, billing it as an 'all-in-one' mixing desk for broadcast, theatre, house of worship, live and install applications.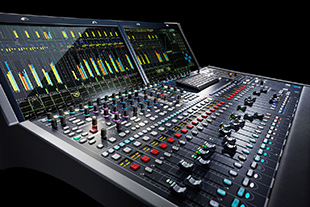 A powerful DSP micro-core with internal 512x512 port audio matrix, and integrated I/O make it suited to permanent installations with limited space, as well as to rental companies looking to optimise equipment transportation. As it is natively equipped with Ravenna/AES67 technology, the mc²36 integrates into IP infrastructures. For operational security, the console not only has redundant power-supplies but also DSP redundancy.
The console was designed as a 'universal' console, with its focus on ease-of-use. Its surface and integrated displays are designed to serve a variety of applications. HD touchscreens work with touch-sensitive colour-illuminated rotary encoders to provide intuitive operation, while, the console's interfaces include 32 mic/line inputs, 32 line outputs, eight digital AES3 inputs, eight digital AES3 outputs, eight GPIO ports, one Madi (SFP) port, three Ravenna/AES67 channels, and a headphone jack. In addition to the onboard I/O, a Madi tie-line connection and three Ravenna/AES67 Audio-over-IP ports provide connectivity for up to 384 external inputs and outputs, offering a total capacity of 496 physical inputs and outputs.
The mc² Compact I/O is a cost-efficient way to expand the mc2 36 connectivity and to provide a distant stagebox solution in addition to the On-board I/O. Connected via Cat5 or fibre-optic (optional), the ruggedised 5U-high stagebox provides 32 mic/line inputs, 32 Line outputs, eight digital AES3 inputs, eight digital AES3 outputs, eight GPIO and a Madi (SFP) port. The mc² 36 allows for connecting up to three mc² Compact I/O.
The mc²36 is also prepared for intelligent networking with other mc²36/mc²56/mc²66 consoles, and can be operated in combination with Lawo Nova audio routers, giving instant access to thousands of audio channels. Lawo mc² consoles provide intelligent mechanisms (including user-rights management) to allow input sharing between consoles.
Any aspect of the console can be adapted to meet specific users' needs. All production data can be saved on a USB stick and transferred to another console – a facility that is particularly valuable in rental applications.
Alongside the mc²36's onboard Loudness Metering, which was originally intended for broadcast applications, Lawo has developed loudness metering into a tool that is useful in live, theatre and house of worship applications. The feature provides full loudness control in accordance with ITU 1770 (EBU/R128 or ATSC/A85) and features peak and loudness metering either separately or in combination. Lawo Loudness Metering can also measure individual channels for fast and convenient 'visual' mixing.
Further functionality includes Listen Sense (for offline modification of channel parameters like EQ or dynamics with pre-listen of settings before switching them online); Audio-follow-Video (allowing automated fades from one camera to another with associated audio channels); Upmix/Downmix (from stereo to surround and back); Automix (automatic adjustment of the Ievels of active and inactive microphones, while maintaining a constant ambient level); Remote Desktop (for seamless integration of multiple external PCs with third-party solutions into the console's user interface); mxGUI (allowing complete offline configuration and advance show preparation); full channel strip customisation (allowing users to arrange the order of all DSP modules, including channel direct outputs, meter point, fader and aux sends); and Reveal (automatic input sorting of VCAs).
More: www.lawo.com