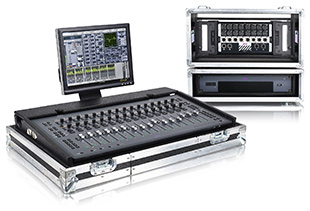 Building on its S3L mixing console, Avid has announced the Venue S3L-X compact live sound system, promising to enable users to 'more easily meet the increasing scope, size, complexity, and diversity of today's live sound requirements'.
Together, Avid Venue S3L-X and Pro Tools software – both part of the Avid Artist Suite of solutions and powered by the Avid MediaCentral Platform – offer an integrated approach to mixing and recording live productions.
The system delivers expanded networking, control, and processing to meet a range of live performance demands. Users can reduce complexity and cost by sharing the same I/O across multiple S3L-X Systems, with full automatic gain compensation. With support for 64-bit AAX DSP plug-ins, plus the open Eucon and Ethernet AVB network protocols, Avid Venue S3L-X ensures compatibility with a variety of Avid and third-party products.
'Live sound professionals face tight budgets, pressure to get more value from their assets, and a multitude of technology choices,' says Senior VP of Products & Technology, Chris Gahagan. 'When we introduced the S3L, our customers embraced it at major festivals, clubs, and tours for its sound quality, power, and mixing creativity. Now with the Avid Venue S3L-X we're enabling them to use one system for both live sound performance and mixing down final assets to monetise.'
Key features:
• Venue 4.5 software
• Share I/O across two or more Avid S3L-X Systems, with auto gain compensation.
• Mix DAW sessions using Avid S3 as a standalone mixing surface and 4x6 audio interface.
• 64-bit AAX DSP plug-in support.
• Scale the system from 16–64 mic preamps.
• Ethernet AVB connectivity.
• Double RAM capacity of Avid S3L
• Record directly to Pro Tools (or other DAW) through via laptop Ethernet.
• High-output, low-noise headphone amp.
Availability
Avid Venue S3L-X will be available early Q4 2014 through Avid resellers worldwide. 
Venue 4.5 software upgrade will be available in late Q3 2014 to current S3L System customers.
More: www.avid.com