Fairlight has added the Quantum.Live Table-Top (TT) to its live mixing console family.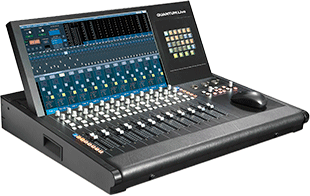 Based on Fairlight's established audio processing technology and control surface hardware, its live consoles are able to switch between live and postproduction operation at the touch of a button. The line is available in configurations from 12 to 60 faders, as standalone chassis, in-surface modules and table-top configurations.
The entry-level Quantum.Live TT is the smallest console in the line-up, accommodating 144 signal paths over 12 layers. It delivers fast tactile access and full command over two monitor systems. A second TT frame can be added to support 24 faders.
At the core of all Fairlight's Live consoles is an audio processing engine designed with FPGA (Field Programmable Gate Array) technology. The processor combines: Fairlight's Crystal Core engine; a redundant power supply; all interfaces for control screens, GPIOs, storage; local control room I/O; Madi for remote I/O; and other system hardware.
The cost of a Quantum.Live Table Top base configuration with 12 faders, centre section, audio processing engine with 48 channels, 32 buses and a full complement of local audio I/O, starts at €30,000, US$40,000.
More: www.fairlight.com.au