Prism Sound has released v6.1 software for its Sadie recording and editing software, upgrading the system's mastering, radio production, TV/film post, archiving and restoration, and sound design capabilities.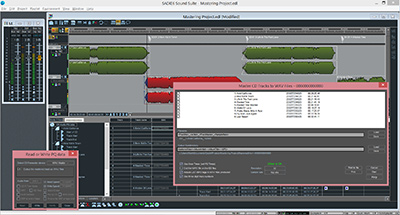 The newly introduced WAV Master feature allows users to create WAV files for an entire album, using PQ marks to define the start and end of the WAV file for each album track. Track Titles, Artist Name and similar information is automatically incorporated into these files. As a further extension of its WAV Master feature, Sadie has introduced a high-quality sample-rate conversion algorithm in-line with the processing standards of Sadie's parent company, Prism Sound. This workflow allows Sadie's PQ list to be used as a single source to create the WAVs, DDP and CDs that are required by today's mastering engineers.
Prism Sound has also incorporated International Standard Recording Code (ISRC) in BWF into Sadie's new WAV Master option. This feature is included as part of the Mastering Suite and Sound Suite packs.
Created and standardised by the European Broadcasting Union, Broadcast WAV (BWF) is an extended WAV format that allows ISRC data to be embedded in the file. Every song released, and every version of that song, is allocated a unique ISRC by the record label. ISRC is then used to ensure that the correct files are used for playback and replication. It also ensures that artists and recording professionals who stand to benefit financially from any playback or replication are identified and compensated.
The UK Music Producer's Guild has led the initiative to get BWF adopted as standard, and in conjunction with the EBU it has produced a Recommended Practice document that lays out methods by which an ISRC can be embedded into a BWF.
Other updates include an extension to Sadie's Wav Master functionality with support for reading and writing a WAV file's List-Info chunk, and for track name and artist metadata (included in Mastering Suite and Sound Suite packs). Prism Sound has also adopted 32-bit floating-point format for recording or bouncing to WAV or BWF. There is also the option of creating a profile when making a DDP Image or importing one.
In addition to these upgrades, Prism Sound is now including Sadie MTR (Multi-Track Recorder) software in the Sadie6 installer. This will run without license when using an LRX2 or Prism Sound Lyra, Titan, and Atlas, interfaces, and requires a license for native operation.
More: www.sadie.com