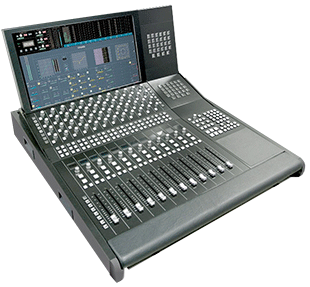 Designed for on-air and live productions, Fairlight EVO.Live is built on the company's established audio processing and control surface technologies, and offers integrated HD video and multitrack audio recording. It also has the ability to switch between live and postproduction modes at the touch of a button, so that it can be used for audio sweetening not serving on-air applications.
'EVO.Live is truly unique,' says Fairlight CTO, Tino Fibaek. 'By combining Live and postproduction capabilities in a single console, we have succeeded in delivering a product that is more flexible and more cost effective than any other large format live broadcast console on the market. EVO.Live customers will get a much better return on their investment because they are effectively getting two consoles in one.'
EVO.Live's compact, modular design is suited to use in OB trucks, performing arts venues, house of worship and broadcast facilities. It can be used in a dual-operator configuration with each engineer having independent access to separate fader sets, channels and monitor controls. The console incorporates Fairlight's integrated control surface technology, featuring Picture Keys that self-label instantly for each task performed, improving workflow and giving better control.
The console also features Fairlight's FPGA-based Crystal Core engine, providing high channel and bus counts, low latency and high audio quality. It additionally provides advanced surround-sound mixing capabilities, off-line preparation via laptop, an onboard sound effects cart machine, and control extensions to lighting systems, third-party DAWs and sound library databases.
EVO.Live is available in different stand-alone chassis sizes, as well as surface-mounted and table-top configurations, from 12 to 60 faders. The ergonomic integrated control surface design with touchscreen TFT monitors offers ready access to all critical live functions with supporting visualisation. An optional second hot-swappable FPGA based engine with dual-input power supplies gives redundancy and further enhanced system reliability.
'EVO.Live delivers huge benefits in terms of productivity gains, reliability and value for money,' Fibaek adds. 'By taking the console architecture that we use for our postproduction desks and creating a variant to suit live broadcast applications, we have created an incredibly powerful mixing and editing system that customers can use all the time.'
The first EVO.Live console has been installed at the Catholic TV Network in Boston, US, where it is broadcasting live TV to more than 14m homes worldwide.
More: www.fairlight.com.au