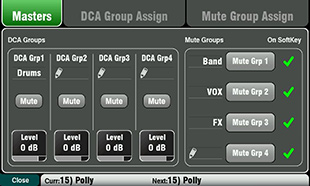 Allen & Heath has announced new firmware for its Qu Series of compact digital mixers, adding support for the newly launched Qu-32 mixer and AB168 Audio Rack, and introducing DCA Groups, custom channel naming, flexible dSnake output patching, improved routing for studio recording applications, and additional Midi control soft keys.
Version 1.5 brings four DCA groups, which can be assigned to fader strips in the custom layer on Qu-16 and Qu-24, while the Qu-32 has four dedicated DCA master strips in the upper layer. All input channels, FX returns, mixes, DCA and mute groups now have custom naming functionality, which can be shared with the QuPad remote app and with any connected ME-1 personal mixers. Also, dSnake outputs to remote Audio Racks and monitor sends to ME-1 mixers have full user configurability, providing flexibility on output routing.
There is also improved functionality for studio recording applications. The input channel source point for Qu-Drive and USB can be set to either Insert Send or Direct Out to facilitate both live and studio workflows. Also, the Midi screen now has Midi Machine Control (MMC) transport buttons for control of DAW software or remote equipment. Additionally, the MMC controls and new DAW Bank controls can be assigned to Soft Keys for use in conjunction with the DAW Control driver.
Qu v1.5 is compatible with all Qu mixer models, and can be downloaded now from the A&H website.

See also:
Allen & Heath Qu-32
More: www.allen-heath.com