The Allen & Heath Qu-32 is a 32-fader, 38 input/28 output digital mixer, joining the rackmount Qu-16 and compact Qu-24 in company's Qu line-up.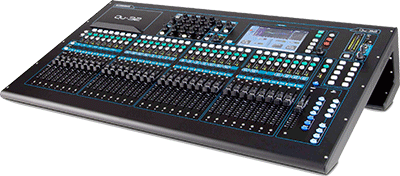 Qu-32 shares Qu series key features – including total recall of settings (including faders and digitally controlled preamps), Qu-Drive integrated multitrack recorder, dSnake for remote I/O and personal monitoring, multichannel USB streaming, Qu-Pad control app, and the iLive FX Library – and adds a larger, 7-inch touchscreen and 33 motorised faders.
Key to the design was the inclusion of a dedicated fader-per-mic input channel, while retaining a compact footprint, Qu series styling, and extensive I/O, comprising 32 mic/line inputs, three stereo inputs, 24 mix outputs including two Stereo Matrix Mix Outputs and four Stereo Groups with full processing, patchable AES digital output with a further two-channel ALT output, dedicated Talkback mic pre input, and 2-Track output.
Qu-32 is equipped with a high-resolution, full colour 7-inch Touchscreen, featuring Touch Channel access to channel processing, the FX racks and all the set-up and system management controls. The SuperStrip provides control knobs for a selected channel's key processing parameters, such as gain, HPF, parametric EQ, gate threshold, compressor threshold and pan. Qu-Drive, the mixer's integrated 18-channel USB recorder, can record and playback multitrack and stereo audio .wav files to a USB drive. The USB interface can also be used to store scene and library data for archiving and later recall.
Qu-32 doubles up as a studio mixer, thanks to its 32x32 audio interface for streaming to/from a Mac or PC, and Midi strips dedicated to control of DAW track levels, selection, mutes and solos.
A&H's proprietary dSnake low-latency audio connection enables the mixer to connect over a single 120m Cat5 digital snake to remote audio racks, such as the AR84, AR2412, or upcoming AB168 stagebox. It is also compatible with the ME personal mixing system.
Motorised faders provide total recall of mix levels make optimum use of the scene recall system and ensure that the fader is always in the right position even when swapping between layers, which allows instant access to all channels and masters or the Graphic EQs. To customise the fader layout to suit certain applications, a third user definable layer is also available. There are also four DCA groups for applications where multiple sources need a single level control. The free QuPad iPad app gives wireless control of key parameters and settings.
The 32 mic/line inputs feature AnaLogiq recallable pad-less preamps, optimised for transparency and low harmonic distortion. In keeping with the audio quality, the Qu-32 is equipped with a selection of the iLive pro touring series' FX emulations, used by many engineers in place of top-end plug-ins and external FX units, including classic reverbs, gated reverbs, delays and modulators.
Finally, Qu's software also caters for different Users, with levels of user access, which can be customised and protected by password to easily cope with multiple users wanting different set-ups at different times.
'Retaining a dedicated fader per mic channel, the larger Qu-32 complements the rest of the Qu family' says Allen & Heath MD, Glenn Rogers. 'The comprehensive array of features – such as copy and paste, softkeys, RTA and PFL options – make using and setting up the Qu console easy and flexible,. The Qu-16 and Qu-24 have been welcomed with great enthusiasm by customers from PA companies to churches, and we look forward to more success with the new addition.'
Qu-32 will ship in July 2014 at a SRP of £2599 (ex VAT).
More: www.allen-heath.com