Lawo has announced the release of v5.0 for all Lawo MkII mc² mixing consoles and routers, representing 'a major upgrade to functionality and operation'.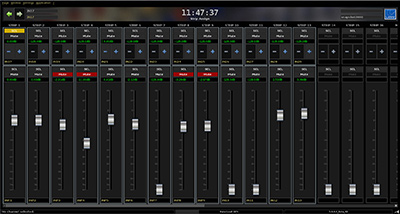 Version 5.0 introduces AutoMix, which automatically balances mono, stereo and surround-sources for a variety of applications. For talk shows or panel discussions.

An example of a new application for the process is to use AutoMix during the broadcast production of sports events and shows, where it can be used to mix the commentators and international sound, reducing spill from the crowd and avoiding sound coloration from mics when multiple commentators are working. In this application, the AutoMix works as gentle bi-directional ducking.
Automix does not take up additional processing power from the system – all DSP modules per channel remain available. Up to eight AutoMix-groups can be used per system, each with an unlimited number of contributing channels.
Lawo mxGUI, meanwhile, is touchscreen-optimised software for monitoring and control of mc² consoles. With v5.0 software, levels can now be adjusted via faders within mxGUI, making it a fully-fledged operating interface for the mc² series consoles, and allowing improved remote control workflows and use as a backup.
Release 5.0 also brings Ember+ integration to all mc² series consoles. The Ember+ self-discovering protocol (an initiative from the Lawo Group and L-S-B Broadcast Technologies) enables highly effective and custom integration of consoles from the mc² family with broadcast control systems such as VSM. Ember+ provides access to almost any parameters and allows users to edit individual settings and routings.
The update is offered free of charge to all existing customers.
More: www.lawo.com