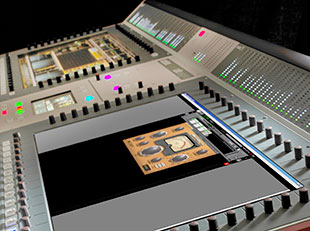 Cadac has unveiled v2.1 software update for its flagship CDC eight digital live production console.
The update extends the functionality of the console automation with VCA group deployment –pressing the Select button on a VCA deploys the VCA group members on the console surface. Switching between input-driven and mix-driven Fader Follow is enabled via the screen. It is now possible to view and access single input channel contributions to multiple buses, ora single bus' contribution from multiple inputs when in Fader-Follow mode.
Features already incorporated in v2 software include individual channel section isolation and global automation safe in the console snapshot automation, as well as snapshot-specific recall filtering. Other unique new features include pre/post VCA aux send options and auto-assign VCA options.
Other performance enhancements in v2.1 also include remote stagebox auto-detection and real-time diagnostics, with the console automatically displaying connected I/O type and connection status. Additional functionality for the user-assignable keys includes enabling Mute Group buttons to be configured to provide instant access to FX pages or tap-tempo delay programming.
Version 2 software also features increased FX processing with 16 stereo FX processors, running 32/40 bit proprietary algorithms at 96kHz sample rate; each processor has delay, reverb and modulation elements, all of which can be used simultaneously, and which can be configured in a number of serial/parallel modes. Soon to come to v2 is the additional integration of Waves Audio Waves MultiRack SoundGrid, via an optional interface card, enabling the plug-ins to be controlled directly from within the CDC eight's operating system. Waves plug-ins will be useable simultaneously with the consoles own DSP FX options and the Waves GUI will be displayed on the CDC eight's touch-screen for viewing and editing.
Version 2 software is multilingual, currently supporting Chinese, English, French, German, Portuguese, Russian Spanish and Danish, allowing the user to label the console in their chosen language.
More: www.cadac-sound.com