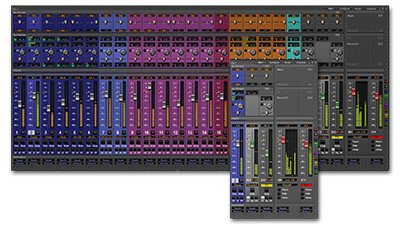 Merging Technologies has released Pyramix 9, bringing performance and operational enhancements plus new plug-in options and interfacing improvements to its digital workstation.
Taking its MassCore engine – which provides Pyramix software with 384 discrete inputs and 384 discrete outputs, 256 buses and almost unlimited power for plug-ins – Merging has now added new features in to Pyramix, including a 64-bit engine,
A new mixer, and loudness logging and fix tools for mixdown. Pyramix's real-time operation is now able to support hundreds of tracks, allow projects to contain more edits, more automation and more plug-ins, and Virtual Transport 2.
Key features:
· 64-bit OS operation
· Hyperthreading support
· Ultra Low Latency mode (1.33ms)
· Requires 64-bit Operating System (Windows7 64bit)
· Signal Flow metering view
With any channel strip, or range of strips selected, users can see where the signal is routed to by a slight colour change in the peak meters. This can be collapsed so that only those strips and buses being used for the part of the mix that has been selected are displayed. Additional updates include automation modes per strip, peak metering in the auxes and subgroup sends and more visible strip colouring.
Multiple buses can be mixed simultaneously, with a separate interleaved file for each one. Users can also enable Final Check loudness checking and 'fix' to ensure that final broadcast masters comply with loudness regulations in any given territory (such as EBU R128 in Europe).
With 64bit operation, Pyramix runs with EuCon 3 installers for use with the Avid S6 and other EuCon control surfaces. An expanded range of VS3 plug-ins from Flux includes 64-bit programs are available for recording, postproduction, mastering and restoration.
Virtual Transport 2 is now completely integrated into the Pyramix Chase Synchronizer, providing solid locked playback and editing features.
ISRC Code in BWF Support. Pyramix 9 also follows the EBU recommendation for embedding ISRC data in Broadcast Wave Files (EBU Tech 3352). This ensures that the correct metadata accompanies the audio as endorsed by the UK Music Producers Guild.
More: www.merging.com