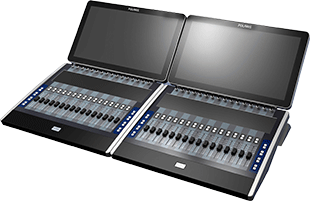 Salzbrenner Stagetec MediaGroup has released the Polaris Evolution digital mixing console, whose components are connected via a standard Ethernet network and can be reconfigured for individual mixing projects.
Comprising the Polaris Access control surface, Polaris Scala, multi-user capable audio processor and Polaris View touchscreen, almost any number of modules can be combined within an IP network, irrespective of physical location, and used simultaneously in parallel for different mixing duties. This provides custom use of audio processing power and number of fader strips and controls for each application. A single Polaris Access has 16 faders and the same number of dual rotary encoders, 48 buttons and a display screen strip across the width of the console. The Polaris View touchscreen upgrade can be docked at an angle onto Polaris Evolution and provides a convenient user interface.
Polaris Access provides remote control of the Polaris Scala audio processor. Polaris Scala is a 19-inch unit for 256 audio inputs and 256 buses. Units can be cascaded to achieve larger numbers of audio channels when required.
The system is scalable and user friendly – if a Polaris module is added to a network, it is registered automatically. The user decides which mixing process it will be used for and whether to integrate it in parallel mode or as a supplementary device, all without any major changes to the configuration.
More: www.stagetec.com