Allen & Heath has released v1.4 firmware for its Qu Series of compact digital mixers.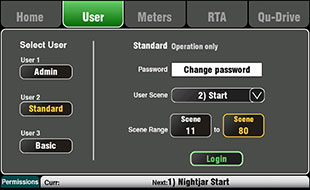 Downloadable from the Allen & Heath website v1.4 adds multiple access user permissions, Windows drivers for multitrack streaming, per scene recall filters and FX user libraries. It also brings Windows drivers, enabling bit-perfect ASIO and WDM compliant multitrack playback and recording.
New User permissions enable three types of user (Admin, Standard and Basic), with different levels of access – for example, for volunteers operators in houses of worship, or guest engineers visiting venues. The Admin user has access to all functions and can protect selected functions and allocate passwords if required for the other users.
Other additions include per Scene Recall Filters, FX User Libraries, RTA Peak Band indication and Qu-Drive transport Soft Key functions, alongside improvements to the User Interface such as 0dB markers and PEQ band fill colours.
'Since shipping started nine months ago, we have sold thousands of Qu-16s and have been back-ordered since launch, while Qu-24 is having a similar impact since shipping started in February, with similar back orders this year," says Sales & Marketing Manager, Debbie Maxted.

See also:
Allen & Heath Qu-24
Allen & Heath Qu-16 v1.2
More: www.allen-heath.com