The release of the SoundPad plug-in for Innovason's Eclipse GT brings new playback functionality to the Mars mixing desk's Mars multitrack recorder.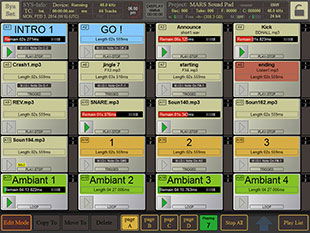 Using touchscreen operation, SoundPad enables the preparation and triggering of up to 64 audio files containing up to eight audio channels each. Audio files can be triggered in various ways, including via time code, Midi, from a fader start or mute key, as well as from the touchscreen. Files can be imported to the Mars removable SATA HDD or read out in real time from any USB device connected to the Eclipse GT.
It can be used in parallel with a Mars project; any recording or playback of a multitrack session during the use of the SoundPad will be unaffected. Each audio file assigned to one of the 64 touchbuttons on SoundPad can be edited (start, stop, fade, level, pitch, etc). It is also possible to export a SoundPad project and import it in another Mars or MT128 device.
The plug-inalso features a module that allows a number of playlists to be created. A playlist is a sorted list of audio files (Waves, MP3, MP2, AIF) that can be automatically chained. Each file can be anything from mono to an eight-channel piece of music, speech or special effects. Up to four playlists per project can be set up, with each playlist holding up to 256 audio files.
SoundPad is optimised for use in applications including theatres, where special effects, audio ambiance and off-stage pre-recorded dialog have to be manually or automatically triggered during a performance. It is equally suited to Broadway shows, where it may be used to synchronise the show with effects and musical elements, and it is also designed for the use in live shows for jingles, security messages, hold music before the show and links between artists.
More: www.lawo.com