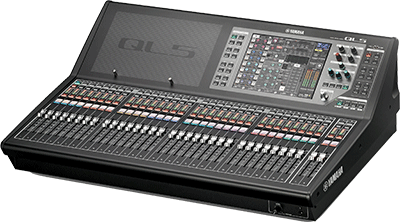 Yamaha launch a new line of digital mixing consoles, bringing the capabilities of its CL Series into a size and with local I/O facilities for smaller-scale production applications.
The QL series comprises the QL1 and QL5. The QL1 features 16 inputs and eight outputs in a 468mm wide chassis, with the QL5 32 inputs/16 outputs, measuring 828.4mm wide. The QL1 has 32 mono and eight stereo input channels, with the QL5 64 mono and eight stereo.
QL consoles are intended for standalone operation, however onboard Dante networking allows them to be integrated into bigger systems with Yamaha's R-series I/O units and CL Series consoles. Up to eight R-series units can be simultaneously controlled by a QL console, offering up to 256 input sources.
A new Port-to-Port facility gives CL Series consoles access to the onboard connections of QL consoles, allowing them to be used as external I/O. This allows precisely scalable audio solutions to be created. Auto Gain Compensation can be applied to the QL Series head amps as well as R-series I/O units, allowing two or more QL & CL Series consoles to share inputs without fear of unexpected level changes.
Dan Dugan's auto-mixing capability is provided onboard for speech events and broadcast applications, while onboard audio processing includes the QL Effects Rack and the Premium Rack. The latter incorporates the Rupert Neve Portico 5033 EQ and 5043 Compressor as standard. Two onboard Mini-YGDAI expansion slots also allow QL series consoles to add further (external) processing, additional local I/O and interface with other audio networking formats.
In operation, a responsive colour touchscreen and array of user definable buttons are included, as well as the same faders and editable, backlit channel name displays with assignable colour bars as used in CL consoles.
Convenient two track recording and playback functions are provided and the QL series is fully compatible with Dante Virtual Soundcard and Steinberg Nuendo Live software, making multitrack live recording straightforward.
Yamaha has also announced a QL version of the StageMix iPad remote control app and a fully fledged online/offline editor for Windows and Mac, QL Editor.