Rupert Neve Designs announces SwiftMix Automation for its 5088 console.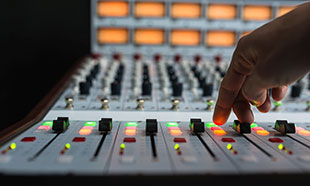 Built around motorized faders and DAW control over Ethernet, SwiftMix combines the accuracy and convenience of digital automation with the sound of the console.
For company founder and lead designer Rupert Neve, 'The goal of the 5088 was to create a console with the absolute best possible audio performance, along with the long-term reliability of my original designs.
'We spent years developing the high voltage circuitry and transformers that have improved the total dynamic range by over 10dB, and the resulting experience of listening to music through a 5088 is beyond anything I have previously witnessed. By adding SwiftMix to the 5088, you will be able to take full advantage of modern digital control, while maintaining an entirely analogue signal path, and thus not compromising the quality which we worked so hard to achieve.'
Each SwiftMix channel features five illuminating tact switches and a 100mm motorised fader. The switches control DAW channel selection, DAW solo, DAW mute, channel record enable and automation mode. The automation mode switch toggles the selection between off, read, touch, latch and write, which are individually indicated with LEDs on the fader panel. A carbon impregnated fader cap provides immediate touch responsiveness, and the 100mm motorised fader accurately writes, adjusts and follows automation commands.
SwiftMix communicates via a 9-bit HUI-over-Ethernet protocol. Its implementation provides precise fader mapped calibration, which allows the analogue fader to match levels previously set in the DAW. System set-up is accomplished by connecting a single Ethernet cable to the DAW host computer and then adding SwiftMix as a HUI Controller in the DAW. No drivers are required for PC or Mac, and channels are automatically assigned and matched to channels in the DAW. SwiftMix is optimised for use in Avid Pro Tools and Apple Logic, but will work with most DAWs supporting HUI control surfaces.
The first SwiftMix systems will ship in Q2 of 2014.
More: www.rupertneve.com