DiGiCo has introduced the D2-Rack to support and expand its SD Range's higher sample rate I/O solutions.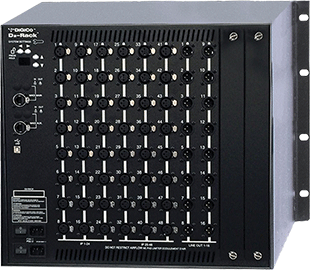 The D2-Rack comes with either BNC or atT5 Madi connections, allowing it to be used with a number of DiGiCo consoles or as a stand-alone unit. By using the latest convertors found in DiGiCo's SD Range, the D2-Rack offers a more compact, more efficient, more affordable rack solution for connection at either 48kHz or 96kHz with no I/O reduction.
The D2-Rack is available in two I/O versions offering either 48 mic inputs, 16 line outputs and two blank output slots for an additional 16 outputs (analogue, AES and Aviom), or offering 24 mic inputs, 24 AES inputs, 16 line outputs and two blank output slots. The D2 Rack is currently available for use with SD8 and SD9 systems.
The D2-Rack updates an SD8 system with a 96kHz rack option, supporting the recent increases in the SD8's Stealth Digital Processing. A new system will be introduced that includes the SD8 surface with the D2-Rack with a system price advantage. The SD9 Rack Pack system DiGiCo will be available with either rack option and will provide a cost-effective single rack solution.
'Being able to open up the full 96kHz potential of the SD8, SD9 and SD11 with this next generation of I/O conversion is an impressive upgrade,' says DiGiCo MD, James Gordon. 'It allows users to get unrivalled audio quality at a total system latency of just over 1ms.'
More: www.digico.org