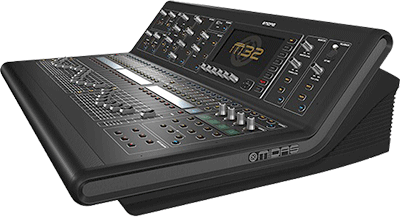 Midas has introduced the M32 digital mixing console, offering a package of advanced live sound and attendant recording facilities.
The M32 is a 40-input mixer with 25 time-aligned and phase-coherent mix buses, and eight DCA (Digitally Controlled Amplifier) groups. It uses the same mic preamplifiers as the Midas Pro Series consoles and offers extensive connectivity options, including Ultranet for Acoustic Integration with Turbosound iQ active loudspeakers or IEM systems, as well as expansion for Adat, Madi and Dante. AES50 networking supports up to 96 inputs and 96 outputs, and its open architecture allows for future 96kHz operation using its 192kHz AD/DA (114dB dynamic range) converters. Additionally, a high-quality onboard 32×32 USB interface allows real-time recording.
Operation of the M32 is based around a 7-inch day-viewable colour TFT display, which places control of effects, metering, routing and other functions no more than two button presses away.
The industrial design of the console has been entrusted to Rajesh Kutty, best known for his work with luxury car manufacturer Bentley.
'We've been listening to customer requests for a lightweight, durable and transportable Midas console,' says Midas Senior Product Manager, Al Walker. 'We incorporated the mic preamps from the Midas Pro1 and Pro2, and gave the M32 professional-grade motorised faders for maximum durability and unparalleled accuracy. The design is compact and eye-catching, thanks to the high-tech carbon-fibre and aluminium construction – which also makes it extremely light and portable."
The Midas M32 is available at a suggested MAP of US$4999.99.
More: http://midasconsoles.com