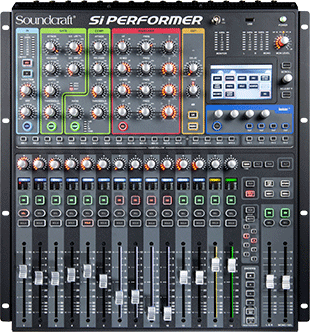 Soundcraft has released the Si Performer 1, the most compact mixing console in the Si Performer range.
The 19-inch rackmout console features two Option Card slots for ViSi Connect Expansion cards, 80 inputs to mix, FaderGlow and Channel Displays, plus DMX control of light and sound. It features eight VCA groups and eight mute groups for control over inputs and buses. Each channel on the surface features a custom LCD screen to show identifications such as channel name, assignments, graphic EQ frequencies and DMX data, plus signal metering. Lastly, the unique integration of a DMX512 port offers core lighting control, for single (audio/lighting) operator application.
The two Option Card slots supports stageboxes and connection of the desk to audio networks including Dante, Blu Link and CobraNet. They also support personal monitoring systems, like the dbx PMC Personal Monitor Controller via Blu Link.
The console has an input capacity of 80 audio inputs to mix on all models, featuring the same mix power as the Performer 2 & 3 but with 16 mic preamps and 16 faders. Fully-parametric, four-band EQ are standard on all input channels, and BSS graphic EQ is provided on all bus outputs. This is in addition to the standard filters, gates, compressors and delays on all inputs and compressors and delays on all outputs, which represent the equivalent of 448 rack units of processing in a tiny footprint. All processing is fully available all times.
In addition, the Si Performer uses Soundcraft FaderGlow, which allows faders to be colour-coded with an LED strip alongside the fader to indicate its function or channel identification.
More:
www.soundcraft.com