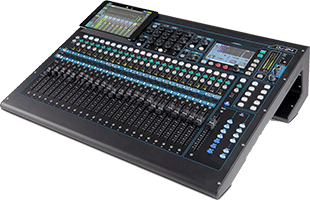 Allen & Heath has added the Qu-24 to its Qu series of compact digital mixers.
The 30 input/24 output Qu-24 features touchscreen operation and total recall of settings (including 25 motorised faders and digitally-controlled preamps), as well as the Qu-Drive integrated multitrack recorder and dSnake for remote I/O and personal monitoring. It also supports multichannel USB streaming to Mac, Qu-Pad control app, and iLive's FX library.
The mixer has a dedicated fader per mic input channel, 24 mic/line inputs featuring AnaLogiq total recall pad-less preamps, three stereo inputs, four FX engines with four dedicated sends and stereo returns, 20 mix outputs including two stereo matrix mix outputs and two stereo groups with full processing, patchable AES digital output with a further two-channel alt output, dedicated talkback mic input, and two-track output. High-speed dual-core DSPs provide comprehensive channel and FX processing, with room for future processing updates and functionality.
Qu-24 uses a high-resolution (800x480) full-colour touchscreen, featuring Touch Channel access to channel processing, the FX racks and all the set-up and system management controls. In keeping with the iLive user interface, the SuperStrip provides control knobs for a selected channel's key processing parameters, such as gain, HPF, parametric EQ, gate threshold, compressor threshold and pan.
Qu-Drive, the mixer's integrated 18-channel USB recorder, works with an external USB drive to record and playback multitrack and stereo audio .wav files. The USB interface can also be used to store scene and library data for archiving and recall. If using the Qu-24 in the studio, there is also a USB audio 32x30 streaming interface for record and playback to Mac DAW systems.
A&H's proprietary dSnake low-latency audio connection enables the mixer to connect to a remote audio rack such as the AR84 or AR2412 over a single Cat5 digital snake, and is compatible with the ME personal mixing system.
Motorised faders provide total recall of mix levels and switching between layers, which allows instant access to all channels and masters or the Graphic EQs. To customise the fader layout to suit certain applications, a third user definable layer is also available.
The Qu-24 is equipped with many of the iLive pro touring series' FX emulations, used by many engineers in place of top-end plug-ins and external FX units, including reverbs, gated reverbs, delays and modulators.
There is a free QuPad app giving wireless control of the mixer's key parameters and settings, enabling the user to tweak the PA, adjust the monitors on stage, and even mix the show from the audience. The app connects to the mixer via a Wi-Fi router plugged into the Ethernet control port.
'Building on the key features of the hugely successful Qu-16, Qu-24 is an exciting follow up,' says A&H R&D Director, Rob Clark. 'During the design process we aimed to retain a compact format with all mic inputs on one layer, with extra matrix, groups and FX sends to suit larger applications.'
The Qu-24 will hip in February 2014 at an SRP of £2160 plus VAT.
More: www.allen-heath.com