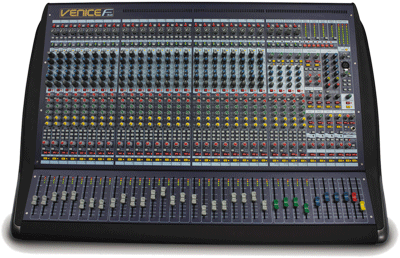 The VeniceF is the first all-new Midas product to be released following the company's acquisition by the Music Group. 'VeniceF is the first professional analogue live sound console to feature a multi-channel digital audio FireWire interface, and, as such, heralds the creation of a new genre of hybrid live audio consoles,' say Midas and Klark Teknik Brand Development Manager, Richard Ferriday. 'This proves that it is possible to have the best of both worlds.'
A brand new 'digi-log' ultra-compact mixing console, it is designed by Alex Cooper and adds FireWire multichannel digital audio interfacing to its analogue mixing features. It also comes with a trial recording and processing software bundle from Propellerhead.
It desk has a Midas XL3 EQ and filter section, Midas mic preamps, 100mm faders, increased channel and input count, a dual 7x2 matrix and a reorganised master section layout. The 32x32 FireWire capability, meanwhile, adds 32 channels of multitrack recording and playback (VeniceF 320) using any suitable FireWire-equipped computer, without the need for additional interfaces. This also offers the possibility of virtual soundchecking, and allows third-party plug-ins to be run as channel inserts and third-party effects routed via aux sends and returns. Inputs, groups, auxes, matrixes and masters can be routed to the FireWire interface.
The software bundle includes a 60-day trial version of Propellerhead's Record software, and a low latency Midas ASIO driver for PC and Mac. Record offers both multitrack record/edit/replay software and signal processing modules, including dynamics and reverbs which can be inserted into the VeniceF signal paths.
The console is designed to appeal to a greater market sector than its predecessor, the best-selling Midas Venice, due to its processing and multitrack capabilities, expanded functionality and XL3 EQ. VeniceF is presented in a rugged, reassuringly weighty new frame design and livery reminiscent of the Heritage Series, and will begin shipping in October.
More: www.midasklarkteknik.com