Designed to expand the connectivity of DiGiCo consoles, the Little Red Box and Little Blue Box were released at the London Plasa show.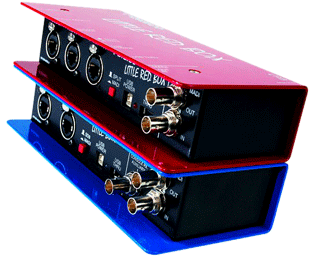 DiGiCo's Little Red Box allows connection of a D-Rack or a Madi Rack (DiGi-Rack or MiNi-Rack) to two SD9s digital mixing desks. Currently, a single D-Rack will serve one SD9, with no way of sharing the rack – the Little Red Box enables a D-Rack, a main console and a secondary console to be connected together. The main console controls all gains and outputs on the rack, while the second console acts as a 'receive only' module for the inputs, allowing a rack to be shared and and operated at either at front-of-house or monitors. DiGiCo's gain tracking system can be used across the connections.
The Split Madi switch allows splitting of a D-Rack or one of DiGiCo's other racks. On an SD9, this connector is usually limited to 32 inputs and 16 outputs. By connecting a DiGi-Rack it allows all 56 I/O. The Little Red Box is powered via USB, with a second USB port acting as a 'thru', meaning there is no loss of available connections.
The Little Blue Box allows an SD9, D-Rack and Madi console (SD8, SD7 or a D-Series) to be connected, enabling a D-Rack to be shared between two or three consoles. The SD9/Madi switch allows select of the SD9 or another console plugged in to the Madi connector to control the D-Rack.
The Console RX. Auxiliary output is designed to be the redundant run on an SD8 or SD7. Alternatively, it can be split to another console with one SD9 using a Cat5 connection and one Madi pair for the SD8, which could then feed off to a recorder or another console.
The Little Blue Box is powered via USB, with a second USB port acting as a thru.
Both boxes can be connected to the mixing console with a Velcro strip, or by a specially designed 19-inch rack plate.
More: www.digico.org