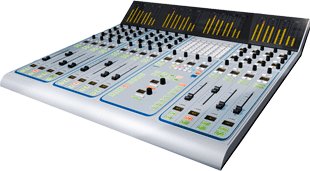 Designed to address the variety of on-air and production demands now facing radio broadcast studios, Lawo's sapphire consol offers 'a unique combination of a fresh and intuitive control surface, high performance and maximum flexibility'. It is intended to enable broadcasters to tailor on-air- or production studios to their needs and requirements.
The sapphire is based on the crystal console, using the same extremely flat construction to allow fexible placement. The desk supports up to 40 faders, which can either be placed arbitrarily on individual studio islands or integrated into the desk, allowing moderators to work from different positions while the studio is on-air. This flexibility extends further using layers – up to 80 mono sources can be connected simultaneously. In addition to mono, stereo and 5.1 sources are possible, each of which can be assigned to a single fader. The configuration of individual buttons is also highly flexible. To arrange controls efficiently and allowing quicker access to additional channel parameters and different modules with longer channel strips, 'Extensions' can be used. These feature high-quality OLED displays, rotary controls, and buttons. An optional Overbridge with high quality surface and modern design can be added to allow displaying channels directly via the channel strips.
The heart of the sapphire is the Dallis system, providing a powerful and flexible DSP infrastructure. Various other tools, such as an integrated router, signal processing with dynamics units, EQ, silence detects, or the integrated talkback function, are also supported.
Finally, there is a choice of interfaces that covers all standard formats and is constantly updated. Allowing access to IP-based audio networks and efficient connection to other studios, sapphire is promised feature a Ravenna Audio-over-IP interface in the near future.
More: www.lawo.de