Designed for broadcast and location recording, JoeCo has released details of its BlackBox BBR1MP Recorder – a 24-channel, 1U-high recorder housing 24 96kHz, 24-bit resolution microphone preamps.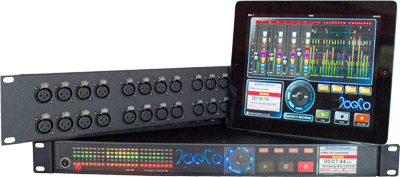 Joining JoeCo's BlackBox family of multichannel recorders and players, the unit features a range of connection options including individually switchable mic/line inputs and balanced outputs, video sync, time code and word clock inputs, and an optional Dante interface. Alongside the unit's recording capabilities, provision is also included for creating a simultaneous stereo mixdown. Full support for iXML data is provided.
The BBR1MP will run off a 12V power source. Unused channels and features can be disabled in order to preserve battery life on location. The unit is also fully controllable via iPad using JoeCoRemote.
'Many existing customers regularly use their BlackBox Recorders directly linked to third-party mic preamps, but would like a more compact and elegant solution, so our decision to move in this direction is, once again, customer driven,' says JoeCo's Joe Bull. 'The BBR1MP is a practical answer for broadcast engineers and location sound recordists working in Film and TV, as well as for live engineers, combining quality and ease of use with size and weight advantages. As more and more audio material has to be captured in multichannel format to be repurposed for surround broadcasts and other deliverables, a fully integrated BBR1MP recorder with high-quality converters, conveniently sized for field /location use, has many advantages for different broadcast applications.'
The BBR1MP is expected to be available in early 2014.
More:
www.joeco.co.uk