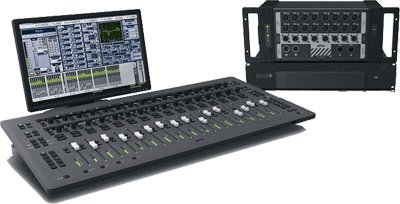 Avid has released S3L, a modular, networked live sound mixing system, based around a EuCon-enabled control surface, and a high-performance HDX-powered processing engine running Venue software and AAX DSP plug-ins. In addition, it S3L supports scalable remote I/O and Pro Tools software for integrated live sound mixing and recording.
The streamlined networked design simplifies system set-up and configuration with drag-and-drop functionality, while the integration of Pro Tools enables the system to be used for recording and mixing live albums.The compact S3L System is equally aimed at touring and or installation in clubs, theatres, houses of worship and other performance venues serving a broad range of requirements.

Supporting the system's 64-channel/24-bus architecture (plus eight mono matrixes and eight VCAs), the EuCon surface provides 16 faders (up to six fader banks), while the system provides four analogue inputs (two XLR mic/line inputs and two TRS line inputs for talkback, audience mics or playback devices) and four analogue outputs(two XLR line outputs and two TRS line outputs for recording devices or close-field monitors). In addition, there are two Gigabit Ethernet AVB ports and 2 USB 2.0 ports (for keyboard andmouse only), as well as a footswitch port (quarter-inch TRS) and two console light ports.

There are 16 graphic EQs, as well as four-band parametric EQ on every input and output channel, and a compressor/limiter and expander/gate on every input and output channel. The set-up will record and playback up to 64 audio tracks on computer over the Ethernet AVB network.
The Avid S3L is shipping now.
More: www.avid.com