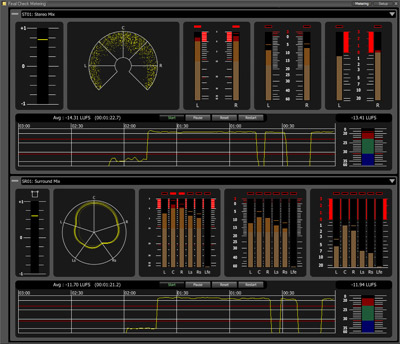 Launched at IBC, Merging Technologies' Final Check is an optional add-on a suite of metering tools for Pyramix Virtual Studio.
Aimed at duplication houses, broadcasters and film companies facing increasingly stringent delivery requirements, Final Check includes the essential measurement and display options for both stereo and 5.1 surround mixes. Bargraph vu, PPM (with DIN, Nordic, BBC and EBU presets) are complemented by True Peak meters (Inter-sample Peak Meters), which can identify areas likely to cause problems after D/A conversion due to excursions beyond 0dBFS. Standard phase meters for stereo and surround assist in identifying inappropriate correlations.
Stereo spatialisation is displayed as a classic goniometer/oscilloscope with two new display modes – Phase stereo-meter, which shows a 360° plot of the points displayed by the phase oscilloscope, and vu Stereo-Meter, a circular graph showing directional RMS rays.
Surround is addressed through a 360° display of the surround mix, with the added feature of a simple colour code enabling the user to detect inter-channel phase issues rapidly by highlighting them in red.
Accurate loudness measurement is now a routine delivery requirement. As recommended by ITU-R 1770-1, the Final Check loudness meter displays a bargraph as well as the numerical value LUFS (Loudness Unit, Full Scale). It is also fully compatible with the ATSC (Advanced Television Systems Committee) A/85 standard and a preset is provided for Dolby 'dialnorm' compliance.
More: www.merging.com