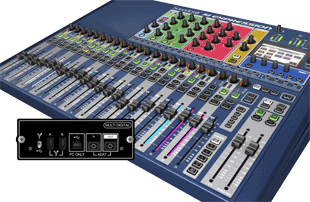 Soundcraft has released a further option card in the ViSi Connect series of expansions for the Si Expression, Si Compact and Si Performer consoles, providing users of the console with a multichannel, multi-format interface for live and studio recording to DAWs and other recording systems.
The Multi Digital card provides 32 output channels (fed from the console channel direct outputs or other feeds) and 32 input channels for playback/monitoring from a recording system, such as a PC or MAC based DAW. The card has connections for USB and FireWire, plus eight channels of Adat interface on TOSLink optical connectors. A second FireWire port allows the connection of an external hard disk as well as a computer, which provides a more stable recording solution than using the computer's internal hard drive.
The new card extends the applications for the console, as live performances can now be recorded for later mixdown, or used for virtual soundcheck and set-up using multitrack playback. In the studio, the console can become a more integral part of a set-up, using its mic preamps for recording, providing up to six stereo latency-free artist headphone monitor feeds, control room monitor outputs and physical fader final mix-down.
The card also allows expansion of inputs and outputs to the console as any of the ports can be used to connect external equipment such as multichannel mic preamps or audio interfaces which have USB, FireWire or Adat connections.
Soundcraft has developed an application note and set of simple guides, which can be viewed on the company's website.
More: www.soundcraft.com