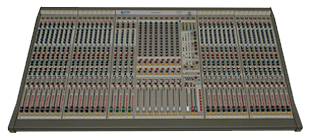 APB-DynaSonics is set to introduce its ProDesk-8 console at Plasa 2010 in London.
A development of APB's ProDesk, theProDesk-8 offers eight subgroups and matrixes, along with an eight-channel mute group system. The versatile eight-bus auxiliary system can generate mono and switchable stereo mixes, pre- or post-fader, while a ninth aux bus allows direct or variable assignment of channel level to a mono system intended to feed a sub-woofer system. In addition, separate left-right and discrete centre bus systems are also provided.
The mono input channels EQ section comes directly from APB's Spectra-C console, and includes separate frequency switches for LF and HF bands, two variable mid-frequency bands plus a variable high-pass filter.
The ProDesk-8 will be available in 24, 32, 40 and 48 mono input formats, will all versions including four stereo line input channels plus two master stereo programme input sections.
The US company will also be adding the ProSpec 1U-high and 2U-high rackmount mixers for sound contracting applications to its range at the Plasa show.
The ProSpec line will include both eight mic/line by three output (left-right-centre) and four mic/line and four stereo line input/three output (left-right-centre) single rack space mixers intended for commercial A/V applications. These will maintain the same audio and build standards of the company's desktop products, including the use of Burr-Brown mic preamplifiers. Also scheduled for introduction are two 2U-high ProSpec rack mount mixers, one of which includes the ability for automatic mic/line mixing.
Both ProSpec models include six mic/line channels, each with a variable high-pass filter linked to the channels low frequency EQ frequency setting. Both LR and mono (centre) mix buses are provided, including on the two stereo line input channels. USB digital line inputs and outputs are also provided.
A new ProSpec contractor version of APB's MixSwitch product also will be shown at Plasa, with a choice of a keyed or non-keyed output source selection switch.
More: www.apb-dynasonics.com