Announced at the ProLight & Sound show, the launch of the Live console brings SSL into the sound for the stage market for the first time.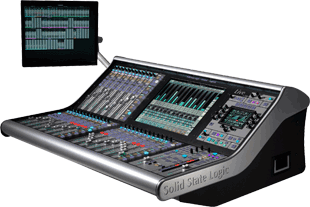 'Many people have been asking us to make a console for live for so long and the time has come,' says SSL MD, Antony David. 'It has been a couple of years in the making because we like to get things right at SSL, and we are very confident that we have created a console engineers will fall in love with. It is very exciting to be entering a completely new area of the industry, with a new technology platform and a fresh approach to how a live console should sound and how to give engineers a control surface that helps them deliver exceptional performances. We are really looking forward to how the professional live sound community reacts.'
Based on SSL's new Tempest processing platform, Live supports 976 inputs and outputs, and 192 full processing audio paths at 96kHz. Audio paths configuration is extremely flexible, being allocated to Channels, Auxes, Stem Groups and Masters as determined by the needs of a particular event. All processing is built into the console surface, as is I/O connectivity. A full range of Stagebox I/O connects to the console via Madi with the potential for larger systems to make use of SSL's Blacklight technology, which carries up to 256 channels of bi-directional audio and control via a single fibre-optic connection.
Console control uses multiple tablet style multi-gesture touchscreens intended to allow engineers to work as they wish – with touchscreen or classic hardware technology, or to combine them both. Live uses SSL's 'studio grade' SuperAnalogue mic preamps, with 96kHz/24-bit AD/DA conversion, and 64bit internal processing. There are also 30 effects and audio analysis tools onboard.
The console is designed to meet the demands of all aspects of live sound production in touring and installation, and at FOH and monitors. It is aimed at applications ranging from arenas and concert halls to houses of worship.
Live is due to ship in September 2013, with pdices depending upon configuration(ranging between: £48,000 and £75,000/€57,500 and €90,000/US$84,000 and US$130,000)
More: www.solidstatelogic.com